Volunteer Lake Monitoring Program
In 1981, the Illinois Environmental Protection Agency (IEPA) established the Volunteer Lake Monitoring Program (VLMP). The program was primarily established to gather fundamental information on Illinois inland lakes. Annually, 150-200 lakes are sampled by approximately 150 citizen volunteers statewide. Volunteers are mainly  lake shore residents, lake owners/managers, members of environmental groups, public water supply personnel, and citizens with interest in a particular lake. Greater Egypt has been coordinating VLMP volunteers in southern Illinois since the program's establishment. Greater Egypt coordinates the Volunteer Lake Monitoring Program for fifteen-county region of: Alexander, Franklin, Gallatin, Hamilton, Hardin, Jackson, Jefferson, Johnson, Massac, Perry, Pope, Pulaski, Saline, Union and Williamson.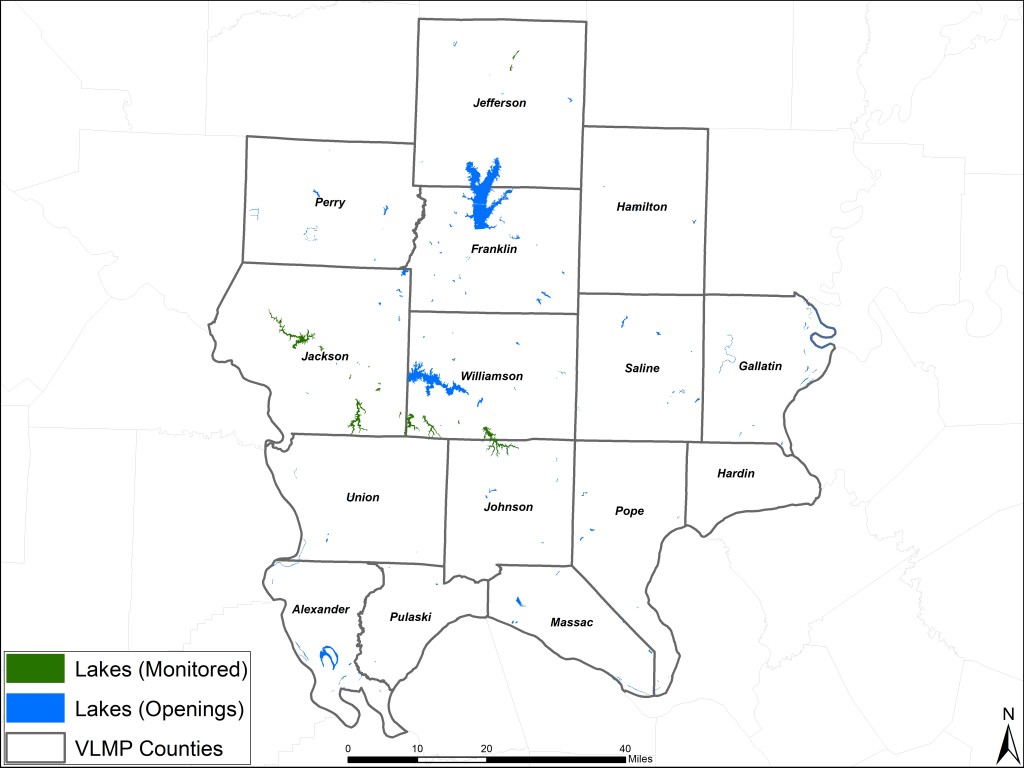 The monitoring season begins May 1st and concludes October 31st with volunteers monitoring their lakes twice a month. Volunteers are required to have access to a boat and anchor, the rest of the material and equipment will be provided to them by IEPA. Training will also be provided by the Regional Coordinator for southern Illinois. Volunteers are divided into three tiers. Tier 1 is the most basic, while Tier 2 and 3 require previous participation in the program. Tier 2 and 3 participation is not guaranteed. Participation is dependent on funding and supplies from IEPA. The level of monitoring is dependent on the tier level of the volunteer.
Tier 1:
Basic lake monitoring. Volunteers measure lake water clarity with a Secchi Disk and make other basic lake observations.  Volunteers record the level of aquatic plant growth, record the siting of any invasive species, the lake water level, weather, and watershed conditions at the time of monitoring.
Tier 2:
After actively participating in Tier 1, volunteers are eligible for Tier 2 monitoring.  Tier 2 volunteers complete Tier 1 monitoring while also taking lake water samples.
Tier 3:
In addition to collecting water samples, volunteers also collect chlorophyll samples as well as measure oxygen levels and water temperatures.
Interested in Volunteering?
Greater Egypt is always seeking new volunteers for the fifteen-county region in southern Illinois. Check this link to see if your lake has an opening for 2018. If you are interested in becoming a volunteer, please choose one of the following options:
VLMP Resources
IEPA Lakes Unit: 217-782-3362
IEPA Regional Office (Marion, IL): 618-993-7200